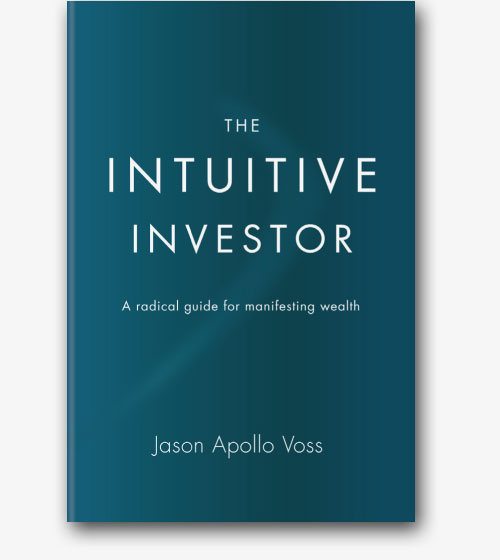 The Intuitive Investor:
A Radical Guide for Manifesting Wealth
Nominated as a finalist for Book of the Year Award by Foreword Reviews from amongst 1,400 entries.
On October 21, 2004, Jason Apollo Voss had a true epiphany: there was going to be a near-collapse on Wall Street, taking global gdp with it, and he should retire to exclusively pursue a spiritual practice.  In electing to honor his vision he gave up a career in which the mutual fund he co-managed bested the NASDAQ by 77.0%, the S&P 500 by 49.1%, and the DJIA by 35.9%.  Most of this success came from a detailed scientific understanding of the mind and its capacity for creative and intuitive thought.  These secrets and their real-world application are the specific focus and passion of The Intuitive Investor.  Much more than just a book about investing, The Intuitive Investor is also a guide to healthy, mindful living.  Scarcely have money, mind, and spirit been brought together so potently.
"One of the most important of all investment secrets is that there is no such thing as a future fact."
This deceptively simple statement is one of the key concepts behind Jason Apollo Voss's The Intuitive Investor: A Radical Guide for Manifesting Wealth, and it sets the tone for the provocative pages to be found inside.
An honest-to-goodness wunderkind in the world of financial management, who predicted the bursting of the real estate bubble of 2008 before his retirement at age 35, Voss has decided to share with the general public his special gift for investment analysis and decision making.  In the process he uses his proven track record to demonstrate that successful investing is as much an intuitive, creative process as it is a product of linear, analytical thinking.

The Intuitive Investor posits that what is missing from the traditional investor's thought process is the involvement of the mind's creative and intuitive powers.  Investing, in other words, is not just a "science" that demands the attention of the facts-and-figures of analysis.  There is also a level of art and finesse integral to financial success that requires the abilities of the mind's creativity and intuition, the sphere of feelings, and conceptualization.  Only when the mind is fully exalted do we gain the "actionable information" upon which to make investment decisions.
Incorporating ideas about spirituality, philosophy, science, and the art of meditation into the thought map for potential investors, The Intuitive Investor becomes a manifesto – a blueprint for decision making in finance and investment, with applications for life beyond that sphere.  As he brings the mind's creativity and intuition into the investor's thought process, Voss explores the limitations of hard information like words, numbers, and raw data; explains how to separate "feeling" and "intuition" from "emotion" in decision making; and attempts to reconcile the seeming dichotomies of intuition versus analysis and art versus science.  The author breaks down complex concepts into easily understandable components, offering seven essential investor attitudes, seven essential investor behaviors, and the four principles of the Intuitive Investor (Infinity, Paradox, Harmonizing and Action), adding enlightening anecdotes from Voss's successful career.
It is truly unlike any other investment book.
Endorsements for The Intuitive Investor
Let me just begin by saying that I have read many many books on investing and this is the first that has inspired me to write a review.Every now and then a book arrives that forever shifts the way we think about the world, potentially changing the way we analyze the accelerated influences that effect valuation. Taken to heart and put into practice, this is just such a rare piece of work. Timely and thought-provoking, The Intuitive Investor captivates the reader looking to improve his analytic process. I dont want to muddy Jason's writing and process by summarizing because it would not do justice to his overall message. That said, I have worked on Wall Street for almost 20 years and this book has blazed a new trail. It will help money managers of today and tomorrow better understand stock market dynamics through creative decision matrices. A huge improvement when compared to the dated valuation metrics/mean reversion models that were easily used by Buffett/Lynch/Vinick during the secular bull market.Voss has assembled a stunning wealth of new information and emerging ideas to help us visualize different and imaginative pathways to utilize right brain thought to capitalize on equity investing in the new market paradigm. He provides a concise and profound framework for making sense of the blizzard of catalysts that effect investment decisions on a daily, weekly, monthly and annual basis. Hyperbole aside, Voss has accomplished an extraordinary achievement. Simply put, read this!
– Philip Etienne, Senior Equity Analyst/Portfolio Manager at hedge fund Matrix LLC
Leonardo Da Vinci and Thomas Edison had the ability to integrate logic and imagination, reason and intuition, analysis and synthesis.  In this powerful book, Jason Voss expresses his genius by guiding you to utilize all these elements in your approach to investing. The Intuitive Investor combines rigorous, analytical discipline and good old common sense with his uncommon intuitive gifts.  The best investment you can make today is to buy this book!
– Michael J. Gelb, Author How to Think Like Leonardo da Vinci and innovate Like Edison
The Intuitive Investor is eloquent, highly intelligent, has great clarity, is superbly researched and one of the best and most instructive books of its kind that I have ever seen.
– Stephen M. Pollan, author of Die Broke and formerly CNBC's "The Answer Man"
In a bull market, the toughest endeavor is adopting a buy-and-hold strategy—the strategy that is usually the most profitable (and stress free!).  Sure, we have made several tactical moves since March 2009, but that is part of our mission.  As such, it is most important for us, as investors, to learn and understand our own psychological makeup and how it affects our investment decisions—both during tough and "normal" bull market times.  This topic was alluded to in last year's outlook.  Again, successful investing requires discipline, a long-term plan, and the need to understand yourself, and to "block out" everyday noise (turn off CNBC).  Last year, we asked our subscribers to read or re-read Peter Lynch's "One Up on Wall Street."  We stated that not only does the book give you some common sense ways to beat the S&P 500 through individual stock picking, it also tells you if you should invest in individual stocks in the first place.  This year, I recommend a book that would give you a better understanding of your own psyche and how to block out the investment noise.  In his book, "The Intuitive Investor: A radical guide for manifesting wealth," former fund manager Jason Apollo Voss reveals why it is so hard to beat the averages through quantitative methods and the common information-gathering methods—and why in order to beat the Averages, one would need to open his/her creative side—that is, the right side of one's brain.  Through exercises such as meditation to "clear out" and filter the most important/relevant information, as well as ways to assess the "collective unconscious" (a term coined by Carl Jung), Mr. Voss asserts that investors could easily beat the averages without being overwhelmed by information.  It is highly original and incorporates both science (including our understanding of quantum mechanics and string theory) and spirituality.
– Henry To, Hedge Fund Manager, SageMill Capital Advisors, LLC
This is a great book!  Whether you invest for your self or have a financial advisor, a keen intuitive sense is paramount to success. The Intuitive Investor delivers brilliantly clear strategies to make decisions and invest wisely.
– Kelly Howell, President, Brain Sync Corporation and host of the "Theatre of the Mind" Podcast
Jason Voss and his book The Intuitive Investor are perfect representations of Conscious Capitalism.  In this forward-thinking book Jason demonstrates how transcendent values lead to better, more conscious investment choices.  I have given many endorsements over the years but The Intuitive Investor is the easiest for me to say YES to!
– Patricia Aburdene, author of Megatrends 2010: The Rise of Conscious Capitalism, co-author of Megatrends 2000, and one of the world's leading social forecasters
Book Details
ISBN: 9781590792063
Subject: Business/Investing
Binding: Hardcover
Language: English
Pages: 320
Publisher: SelectBooks, Inc.
Buy the Book
Placing your order for the Intuitive Investor from me means your book(s) will be both autographed and personalized by me. Please feel free to indicate any special preferences when you check out. Note: I can only ship to the United States and Canada.
Addditional Info
Additional materials and downloads about  The Intuitive Investor and Jason Apollo Voss are available.

Join the Facebook Fan Page

Follow Jason on Twitter

Follow Jason on LinkedIn
Another great book from: